This is my husbands buddy Derek.  He's pretty much awesome.  He sings and writes songs.  And they're good (really good).  AND  he builds stuff.  Really cool stuff like
houses
and this
pirate ship
.  It's kind of a funny story.  
He wanted to build his boys a pirate ship bed.  But his go-orgeous wife
Christina
said, "Uh...no."  (She's surprisingly practical.  I thought pretty people were supposed to be frivolous and plain people were supposed to be practical.  Or is that just silly?  I digress....) So Derek said, "I'll build it outside then!"  And that was the beginning of
Pirate Play Ships.
 He has been building them near and far ever since.
Sometimes my husband goes with him.  Once they went to Arkansas and built one in an ice storm.  They had a huge tent and heaters to keep them going.   They also went to Mississippi to build one on the coast.  Good times...good times (or so I'm told).   The next step is a mobile one that Derek is offering to take to birthday parties!  Kids will love that!  My kids certainly love visiting "uncle Derek".  After dinner while Christina and I chatted and poor Chris was at work...Derek took all 4 kids outside in the pitch dark.  He gave them each a flashlight.  They climbed up on the ship and told "scary" stories!  How cute is that!  
In the following picture narrative I'm going to try and use as much cheesy pirate lingo as I can!  Here I go:
"Ahoy there, me matey!"
"Arghh"  (Bentley really got into character when D came out with the pirate garb.)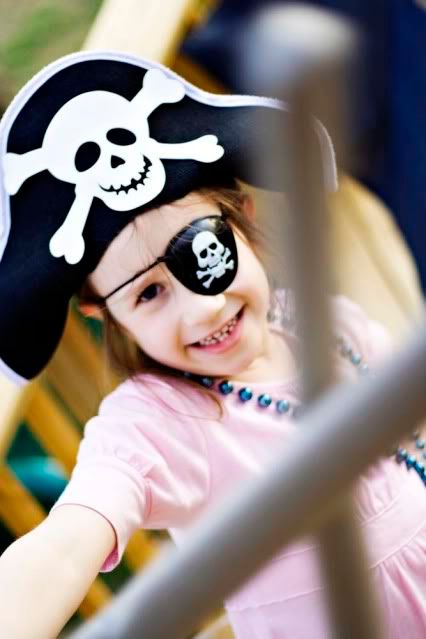 Queen Olivia the Smiling Pirate
Chillin on the deck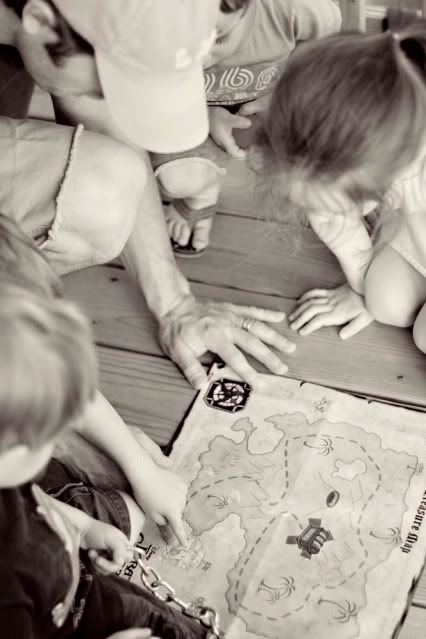 Plotting the course.
Maps are a little harder to follow than GPS. (Don't I know it!)
Hoist the main sail!  (Is that what this is?)
Land-Ho!
Carter is getting ready to lock up his loot.
I really need to stretch my pirate vocabulary.
Today I'm thankful that I kind of figured out how to do a photo collage! go me.